Mother's Day is on Sunday 30 March this year – just under four weeks away. But there's still time to treat Mum or Granny to something lovely. To give you some present-buying inspiration here are 5 great ideas for gifts from Sweetheart Studio. If you are interested in booking a shoot or mini session please get in touch asap so that I can create a personalised voucher for you to give on Mother's Day. If you'd like to order an album or personalised Word Art picture, I will need your order by 15 March please.
Idea 1: Book a mini shoot for the family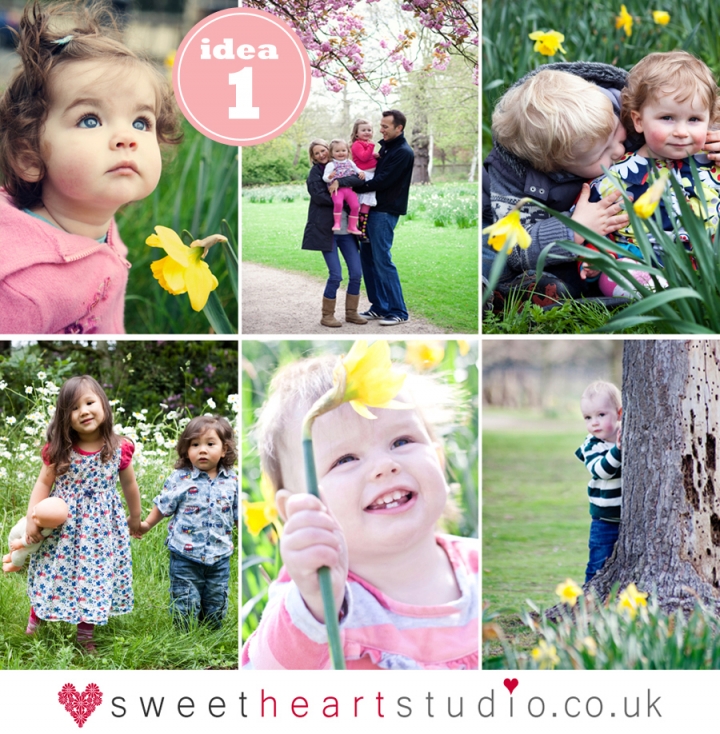 Why not book a mini portrait session as a Mother's Day gift for your wife or mum? They're a great opportunity to get some up-to-date photos of you all together and I can create a beautifully packaged, personalised voucher for the session for you to give on Mother's Day.
I am running spring mini sessions on the morning of Saturday 5 April in Richmond Park. Each mini session lasts 30 minutes and costs £160 which includes five high res images on DVD.
For further details of the spring mini sessions please click
 here
If you'd prefer to book a bespoke portrait session of up to two hours on a different date and in the location of your choice please get in touch on the number below. Please call me if you'd like to chat about what type of session would suit you best before booking:
Email: jo@sweetheartstudio.co.uk Call: 07711 087636
BOOK BY 15 MARCH AND GET A FREE 8x6in GIFT PRINT INCLUDED
Idea 2: Treat Mum or Grandma to a gift voucher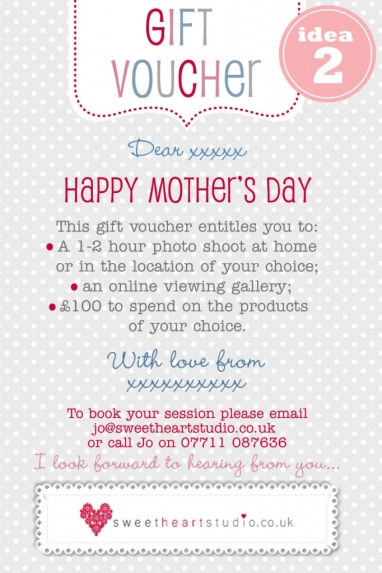 Any Mum or Grandma would love to have some beautiful photos taken with her children/grandchildren. But if you can't decide between a mini session or full 2-hour portrait session and you're not sure whether you'd all prefer a studio session or on-location shoot then a voucher could be the answer. I'll design a personalised voucher which is beautifully presented for you to give on Mother's Day and then you can decide what you'd like once you've all had a chance to discuss it together. You can put the voucher towards a full session, a mini session, a Midweek Mini studio session or a family studio portrait session. Vouchers are valid for 12 months from the date of issue. Please click here to order or call me on 07711 087636 to discuss what sort of voucher you would like and I'll design it and send you a proof.
PLEASE ORDER YOUR VOUCHER  BY 15 MARCH TO GET IT IN TIME FOR MOTHER'S DAY
Idea 3: Order a mini boasting book/album from a previous shoot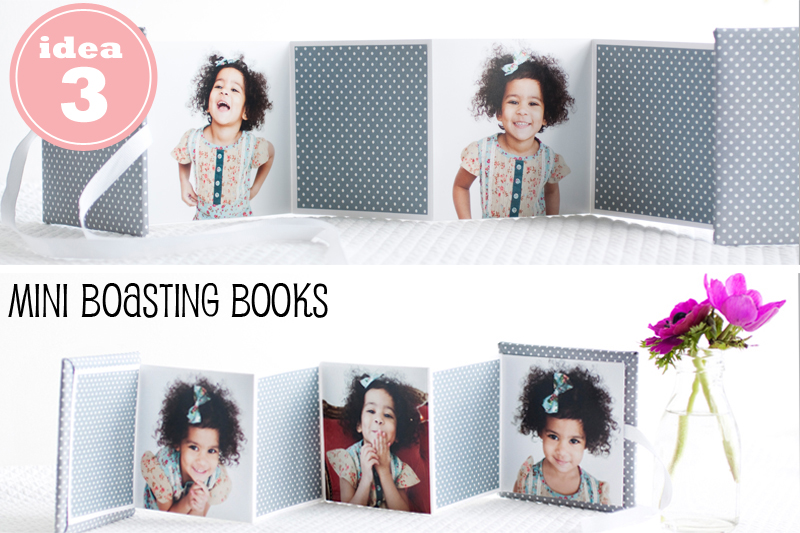 Why not treat Mum or Grandma to a mini album featuring their favourite photos from a past photo shoot with Sweetheart Studio. I have just taken delivery of these beautiful boasting books that fold out to display five 4in-square photos. Presented in a gift bag, they come in a choice of grey and white polka dots or multi-coloured dots and are perfect for popping in a handbag. You can see more images of them here 
They are lovely quality and are great value at £50 each. Please get in touch if you'd like to order one and I will upload the images from your past shoot to a gallery so that you can choose which ones you would like in the album.
Idea 4: Put your favourite photo on the wall

It's lovely having the digital version of your favourite images from a shoot. But it's even better to hang them on the wall so that you see them every day. New from Sweetheart Studio for 2014 are these block prints. They are beautifully finished and ready to hang on the wall. They sit flush to the wall and look great hung in groups of three or four small prints as well as one large print. Prices start at £45 for an 8x6in block print so they are fantastic value for money.
You can see more images of them here  I have some lovely samples of the block prints so if you would like to come and see them before ordering, give me a call on 07711 087636 and pop into my studio in central Kingston.
Idea 5: Surprise Mum with a personalised Word Art picture


For an alternative to a photo-themed gift, how about a personalised word art picture? I have started producing Word Art prints which are beautifully framed and presented and they have proved very popular so far. Great for mums or grandmas,  you can choose from two designs for Mother's Day.For more examples and to order please click 
here
Please call on 07711 087636 for information. 
Orders for personalised word art pictures must be received by 15 March for delivery in time for Mother's Day.